AUSTIN, Nov. 1, 2022
–
Greater Texas Credit Union
has promoted two individuals to assistant vice president roles within its marketing team.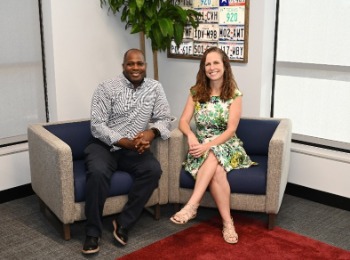 Rachel Bond is now assistant vice president of community engagement and public relations, while Jason McPhee has filled the newly created position of assistant vice president of strategic partnerships and university relations.
Bond joined the credit union in 2006 after graduating from Texas State University with a degree in journalism and mass communications. She has played a significant role in building the credit union's corporate communications program and developing numerous award-winning marketing campaigns that have driven growth in membership, lending, and deposit accounts.


Additionally, Bond has successfully negotiated and managed sponsorships and relationships with key business partners that have strengthened the credit union's reputation and standing in the community.
In his new position overseeing strategic partnerships and university relations, McPhee will work to further develop strategic partnerships with Texas A&M University and Texas State University in San Marcos for Greater Texas and its subsidiary, Aggieland Credit Union. He will also explore and expand partnerships with other businesses and institutions that align with the credit union's strategy throughout Texas.
McPhee has been with Aggieland Credit Union since 2021, overseeing new member acquisition for branches in College Station, Bryan, and Houston. He has more than 20 years experience managing experiential marketing campaigns for national brands including Coca-Cola, Green Mountain Coffee, Keurig, and SmartWater.
"Rachel and Jason have been doing a phenomenal job building relationships and partnerships that have strengthened our brand and grown our membership base," said Sidney Henderson, Vice President of Marketing for Greater Texas|Aggieland Credit Union. "Their experience, energy, and enthusiasm will go a long way in helping us achieve our strategic goals as a credit union."
---
About Greater Texas
Greater Texas Credit Union, founded in 1952, is a financial cooperative that emphasizes community stewardship, charitable giving, and employee volunteerism through its Greater Good initiative. Together with its subsidiary, Aggieland Credit Union – which serves the Brazos Valley – the credit union offers a wide variety of consumer-oriented banking services to its 80,000 members across the state of Texas. Greater Texas has locations in Austin, Houston, San Antonio, Bryan-College Station, Edinburg, and the Dallas-Ft. Worth market with assets of nearly $1 billion.
PRESS CONTACTS:
Sidney Henderson
Rachel Bond
Greater Texas Credit Union
Marketing@GTFCU.org
(512) 323-4732
Kristine Tanzillo
Dux Public Relations
Kristine@DUXPR.com
(903) 865-1078