Greatest. Workplace. Ever.
Our team is a dynamic group that work together to achieve greater for our credit union and its members. We strive to embody our core values each and every day.
At Greater Texas we strive to provide the best possible experience for both members and employees. We do this by continuously developing our professional and technical skills while upholding our company's core values. Things like Integrity, Compassion, Accountability, Reliability and Dedication are important to us.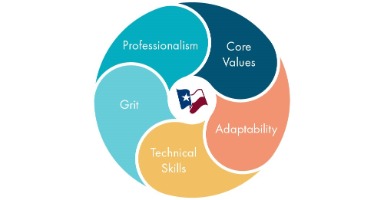 Integrity
means doing the right thing
, even when no one is watching. It's about being honest, transparent, and accountable for your actions. We believe that integrity is not just a personal value but also a collective value that guides our behavior as a team.
Compassion means being able to connect with others on an emotional level and understanding their needs and feelings. Compassion is a key ingredient in building a strong and resilient team. When we show compassion for one another, we build trust, respect, and a sense of community. We create a safe and supportive environment where everyone will thrive and reach their full potential.
Accountability means taking ownership of our actions, being responsible for our decisions, and being willing to admit our mistakes. Accountability is not just a personal value but also a collective value that guides our behavior as a team.
Reliability is an essential component of our success. When we make commitments to each other and to our members, we follow through. We strive to be dependable and consistent in everything we do.
Dedication is about going above and beyond what is expected to achieve great things. It is about putting in the time and effort to get things done, even when it's difficult or time-consuming. It's about having a passion for what we do and a commitment to completing a task and doing it well.