Greater Texas Federal Credit Union has been serving Texans since 1952.
Since our founding we've been all about the financial well-being of our members. From establishing your first bank account and buying your first car through building a dream home and then planning for retirement, Greater Texas is here to help members with their financial needs through every stage of life. We aren't a bank. We are a financial cooperative dedicated to our members' financial success and supporting the community through monetary giving and volunteering.
We are committed to investing in innovation and technology so we can deliver efficient and excellent service. You can bank remotely on any device or in person through one of our 16 branches. We are financially sound, nearing $1 billion in assets, and have been dependable for Greater Texas members for more than 70 years.
At Greater Texas and our subsidiary, Aggieland Credit Union, our goal is simple: Deliver the Best Banking Experience. Ever.
---

Our Journey
For more than 70 years Texans have relied on Greater Texas to help them save, buy their cars and dream homes, protect their investments, and plan for their golden years.
Our journey started in 1951 when a group of employees working for the Texas Department of Public Welfare came together to help offer loans to co-workers in need. Upon chartering, we were named the Texas DPW Federal Credit Union, open to serving the entire Department of Public Welfare.
As we added members and grew we were able to offer other products and eventually became a full service organization, providing for all of our members' financial needs. During the 1980s the credit union experienced rapid growth, leading to the opening of branches in Austin, Dallas, Houston, and San Antonio. We also began to diversify our membership and expand beyond our original charter, which paved the way for the adoption of a new name – Greater Texas Federal Credit Union.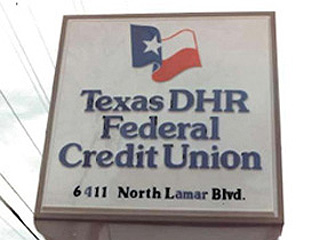 In the 1990s Greater Texas experienced another major milestone and growth spurt following the acquisition of what is today known as Aggieland Credit Union in College Station. This union created new opportunities for both entities, enabling each to expand, reaching $100 million in assets by 1996.
As the combined credit unions continued to excel and add members, branches and digital services, it celebrated the $500 million asset mark in 2012. Now, 11 years later, Greater Texas and its subsidiary are on the verge of being a $1 billion credit union.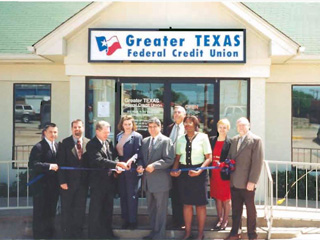 Greater Texas has triumphed as a result of the dedication and commitment of its people. They have made this journey possible. Throughout our history we have had loyal employees and strong leaders who have steered the credit union through a multitude of changes. George Green was the third employee of the credit union, joining in 1957 and retiring in 1981. Tommy Seargeant, a 40-year veteran of Greater Texas began his career here in the 1970s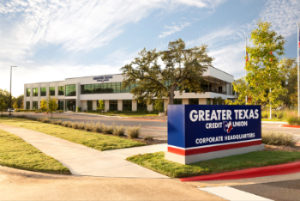 as an Assistant Manager and retired in 2015 as President/CEO. Today our future is being built upon the leadership of Howard N. Baker, who took the reins as President/CEO following Seargeant's departure.
In the short time Baker has been on board he has steered us through a pandemic, economic uncertainty, a massive technology conversion that touched every aspect of the organization, and brought us closer to reaching $1 billion in assets. Building on the foundation of our predecessors we now serve more than 80,000 members, spanning 8,795 square miles of Texas and striving, as always, to provide the Best Banking Experience. Ever.


Our Mission
To enhance the financial well-being of members while preserving the unique benefits of cooperative ownership.
Volunteers
Board of Directors
Chairperson - Wesley Yeager




First Vice Chairman - Veronda L. Durden

Second Vice Chairman - Linda Lothringer

Treasurer - Kenneth Owens

Secretary - Marilyn Eaton

Members - Chris Langan, Paula Castillo Reed
Supervisory Committee
Chairperson - Regan Rychetsky
Secretary -  Laura Wolbrueck
Members - Mike Trachta
---
2022 Annual Report
---
Membership Newsletters 
2023


2022
Annual Reports
Find out more