Austin, October 3, 2022 – Greater Texas Credit Union has named Will Van Alstine Branch Manager for its Lamar location at 6411 N. Lamar Blvd.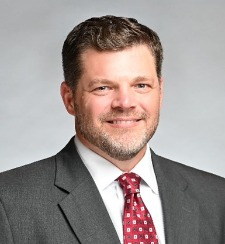 Van Alstine brings nearly 20 years of management experience to the credit union, having led retail operations for several other financial institutions, as well as being an area sales manager for a national retail outlet.
Managing branch staff, training and developing the branch team, and expanding membership within the area surrounding the branch are the focal points of Van Alstine's responsibilities. He will also serve as the credit union's local community advocate by becoming involved in volunteer initiatives within local charities and community organizations.
"Will has already been leveraging his competitive spirit to motivate and develop his team to create an exceptional member experience for every person that comes to this branch," said Lole Nuñez, Assistant Vice President Market Development & Operations of Greater Texas Credit Union. "Based on his experience we are confident he'll add incremental value to the operations of this branch by developing a team that works together to deliver the best banking experience ever."
Van Alstine has a degree in business administration and marketing from Stephen F. Austin University.
---
About Greater Texas
Greater Texas Credit Union, founded in 1952, is a financial cooperative that emphasizes community stewardship, charitable giving, and employee volunteerism through its Greater Good initiative. Together with its subsidiary, Aggieland Credit Union – which serves the Brazos Valley – the credit union offers a wide variety of consumer-oriented banking services to its 80,000 members across the state of Texas. Greater Texas has locations in Austin, Houston, San Antonio, Bryan-College Station, Edinburg, and the Dallas-Ft. Worth market with assets of nearly $1 billion.
PRESS CONTACTS:
Sidney Henderson
Rachel Bond
Greater Texas Credit Union
Marketing@GTFCU.org
(512) 323-4732
Kristine Tanzillo
Dux Public Relations
Kristine@DUXPR.com
(903) 865-1078