Austin, Texas, Oct. 17, 2023 – The Credit Union National Association (CUNA) IT Council named Greater Texas|Aggieland Credit Union's IT Project Coordinator, Ceara Bindl, as the 2023 Tech Rising Star. Bindl was selected based on her contributions to managing the core conversion of the nearly $1 billion credit union.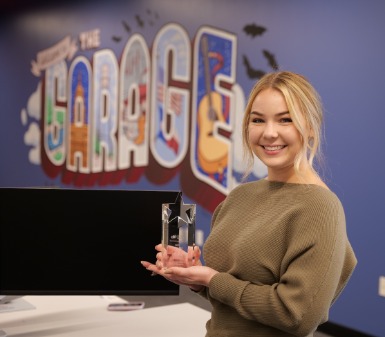 Bindl was chosen by the Greater Texas executive team for a newly created role based on the acumen and skills she consistently demonstrated as a branch manager. Although she lacked prior tech experience, she proved to be an excellent communicator and effective problem solver. Those were key skills required for the complex role she stepped into as project coordinator for the credit union's massive core conversion.
The project, which spanned nearly 18 months, required Bindl to quickly master Fiserv's DNA core system, along with dozens of other applications that were integrated into the new system. She also oversaw the coordination and workflow of more than 40 vendors and internal stakeholders across the organization, managing risk factors and assisting in the daily execution of complex tasks.
"Ceara was instrumental to the success of this project," said Howard Baker, CEO of Greater Texas|Aggieland Credit Union. "She is not only an asset to our organization, but to the entire credit union industry."
Baker added, "Ceara navigated a dynamic and multifaceted project that required intense focus. She demonstrated great skill at being able to adapt, pivot, and effectively lead her peers through the entire process. She is well deserving of this honor."
Bindl's IT role will continue and involve additional responsibility in executing the credit union's ongoing technology strategy.
---
About Greater Texas Credit Union
Greater Texas Credit Union, founded in 1952, is a financial cooperative that emphasizes community stewardship, charitable giving, and employee volunteerism through its Greater Good initiative. Together with its subsidiary, Aggieland Credit Union – which serves the Brazos Valley – the credit union offers a wide variety of consumer-oriented banking services to its 80,000 members across the state of Texas. Greater Texas has locations in Austin, Houston, San Antonio, Bryan-College Station, Edinburg, and the Dallas-Ft. Worth market with assets of nearly $1 billion.