AUSTIN, June 7, 2023 – For four years Greater Texas Credit Union has been a financial partner of the historic Cap10K race in Austin. This year the credit union amped up its involvement by becoming the sponsor of the race photos.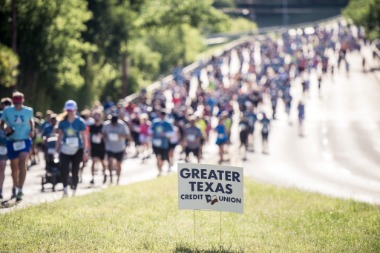 While photos have always been available, Greater Texas made them available for free this year to the more than 17,000 participants.
Photographers were stationed throughout the course to capture photos of racers at key mile markers. Greater Texas also provided motivational signage throughout the course with quirky sayings like "Say Queso" and "Photographer ahead…PRETEND IT'S EASY!" to get runners to smile as they were being photographed.
Greater Texas additionally participated in the two-day Health and Fitness Expo leading up to the race. The expo featured race merchandise and the latest running gear, nutrition information, healthy lifestyle providers, and more. The credit union handed out swag bags filled with goodies and prizes to attendees as they came and picked up their race materials.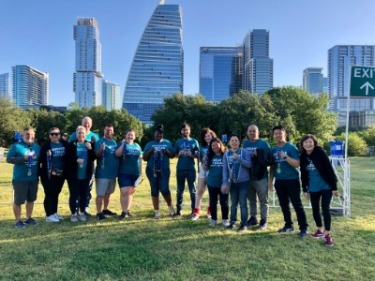 Through its sponsorship, Greater Texas provided 20 race entries to local runners to participate in the 10K. On race day, nearly 20 credit union employees, friends and family members, including CEO Howard Baker, were on hand to pass out medals to each runner as they crossed the finish line.
This was the 46th Cap10K, which is the largest such event in Texas and the sixth largest in the country. The event benefitted the Mike & Sherry Project. One dollar of every registration was donated to the Austin-based nonprofit.
"The Cap10K is an annual event not just for runners, but for the whole family," said Baker "We were glad we could play a small role in helping create a lasting memory by giving each racer a photo of themselves crossing the finish line."
---
About Greater Texas Credit Union
Greater Texas Credit Union, founded in 1952, is a financial cooperative that emphasizes community stewardship, charitable giving, and employee volunteerism through its Greater Good initiative. Together with its subsidiary, Aggieland Credit Union – which serves the Brazos Valley – the credit union offers a wide variety of consumer-oriented banking services to its 80,000 members across the state of Texas. Greater Texas has locations in Austin, Houston, San Antonio, Bryan-College Station, Edinburg, and the Dallas-Ft. Worth market with assets of nearly $1 billion.