Austin, Texas, June 5, 2023 – Interacting with Greater Texas Credit Union and its Aggieland subsidiary just got easier, with the launch of a new virtual assistant system that rapidly handles member inquiries, any time of day.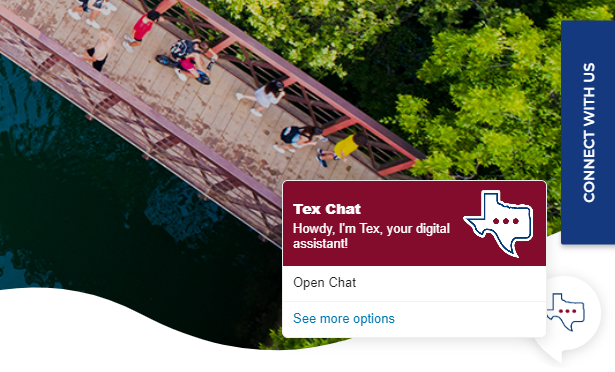 The credit union has implemented an Intelligent Virtual Assistant member chat system from interface.ai in connection with its revamped and improved website. The system is designed to constantly learn based on the types of member inquiries so that it can more quickly deliver accurate responses and guide them to the information they need.
In addition to serving members' needs and the needs of potential members visiting the Greater Texas|Aggieland websites around the clock, 365 days a year, the chat system also helps free contact center agents from answering routine inquiries so they can devote more time to addressing members' more complicated questions.
"We saw the opportunity to combine this chat system with our new website as a way to further improve our member experience," said Stephanie Stout, Vice President, Contact Center Operations of Greater Texas|Aggieland. "This gives members a way to get the information they want anytime and anywhere, with no need to wait for an agent."
The chat system is the first phase for improved member access to information. Later this year, Greater Texas|Aggieland will extend the intelligent system to telephone queries in addition to online queries. Later in 2023, the final phase is a more customized system that can authenticate members based on their account information. This will allow members to access data related to their account balances, deposits, and transactions.
"Giving members a great experience when they interact with us is our primary goal in all that we do," Stout said. "With these improvements, our members will not only spend less time online or on the phone to get the important information they need, they will be able to get it outside of business hours."
---
About Greater Texas Credit Union
Greater Texas Credit Union, founded in 1952, is a financial cooperative that emphasizes community stewardship, charitable giving, and employee volunteerism through its Greater Good initiative. Together with its subsidiary, Aggieland Credit Union – which serves the Brazos Valley – the credit union offers a wide variety of consumer-oriented banking services to its 80,000 members across the state of Texas. Greater Texas has locations in Austin, Houston, San Antonio, Bryan-College Station, Edinburg, and the Dallas-Ft. Worth market with assets of nearly $1 billion.