Austin, Texas, Sept. 21, 2023 – Five Austin credit unions and a local credit union association are joining forces to build a house for Austin's Habitat for Humanity, christened the "House that Credit Unions Built."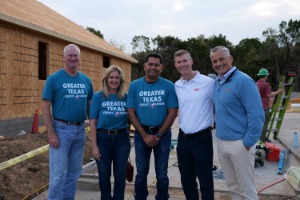 Employees from A+ FCU, Austin Telco, Greater Texas Credit Union, UFCU, Velocity Credit Union, and the Austin Chapter of Credit Unions will be involved in the hands-on construction work on a weekly basis until the house is complete. Employee volunteers will work alongside the experienced construction crew from Habitat for Humanity and the future homeowner to build the 1,578 square foot, four bedroom single family home. The home will be built on-site on Blakely Bend along U.S. 183 on the east side of Austin.
The credit unions are also collectively underwriting the building of the House that Credit Unions Built, contributing $100,000 toward the cost of construction.
The idea for the House that Credit Unions Built was birthed in 2020 by University Federal Credit Union (UFCU). Leveraging the cooperative spirit of credit unions and the people-helping-people philosophy of the movement, UFCU enlisted other credit unions to partner and build a home to help a family realize the American dream of homeownership.
UFCU CEO Michael Crowl shared, "UFCU focuses on empowering people to achieve financial success and brighter futures. We are proud of our partnership with Austin Habitat for Humanity and future homeowners to make their dreams a reality – one home at a time."
This is the fourth house these credit unions have built for Austin Habitat for Humanity. The collaboration models the servant leadership attitude that embodies credit unions and their employees. The purpose of the House that Credit Unions Built is to be a part of the solution to Austin's affordable housing crisis and to help fulfil the dream of homeownership.
Amid skyrocketing housing prices in Austin, Austin Habitat for Humanity is building affordable housing for Austin school district employees and families with children in the district. As part of a partnership with Taylor Morrison, a national homebuilder, and developer, the organizations will build a total of 30 homes for AISD employees and families at two developments: Park at 51 East, at U.S. 183 and East 51st Street, and Loyola, at U.S. 183 and Loyola Lane. Austin Habitat for Humanity is actively recruiting teachers, staff members, and families with children attending schools in the district.
"Austin has become one of the least affordable cities in the U.S.," said Howard Baker, CEO of Greater Texas Credit Union. "Affordable housing is fundamental to improving family stability, building a strong workforce, and maintaining a vibrant community, yet skyrocketing home values are driving good people and families away."
Baker added, "These people are essential hard-working Americans; teachers, first-responders, restaurant employees, construction workers, and many others that are an important part of the fabric of Austin."
The coalition of credit union employees will work on-site each Thursday through December when the house is scheduled to be finished.
Broll footage from the wall raising of the House that Credit Unions Built is available for download here.
---
About Greater Texas Credit Union
Greater Texas Credit Union, founded in 1952, is a financial cooperative that emphasizes community stewardship, charitable giving, and employee volunteerism through its Greater Good initiative. Together with its subsidiary, Aggieland Credit Union – which serves the Brazos Valley – the credit union offers a wide variety of consumer-oriented banking services to its 80,000 members across the state of Texas. Greater Texas has locations in Austin, Houston, San Antonio, Bryan-College Station, Edinburg, and the Dallas-Ft. Worth market with assets of nearly $1 billion.