Car Loan Rates as low as 6.65 % APR* in Austin
Greater Texas Credit Union is proud to serve the greater Austin area and all of its residents with some of the lowest rates on car loans and refinancing in Austin. Whether you're looking for a new car, used car, or refinancing an existing car loan we've got flexible terms for anyone's budget.
Car Loans
We have the perfect car loan to fit your needs. Our loan department is here to serve you, so that you can be sure you are getting the lowest auto loan rates in Austin and unparalleled service.
Lending Notice
New member applicants may not be eligible for unsecured loan applications for a period of 90 days. All unsecured loan applications may require additional review and verification during the application process.
No loan applications will be considered until membership applications have been completed and all information including identification verified.
Auto Refinancing
Are you currently paying a higher rate on your car loan with a different lender? Let us refinance your current car loan for even greater savings! Our loan department is here to serve you, so that you can be sure you are getting a low rate and unparalleled service.
Additional Benefits
On top of the option to defer of your first payment for 90 days, and convenient online applications and forms, we have numerous ways to make your auto loan even better! Check out additional benefits you can receive when getting an car loan with us:

How to Apply for your Car Loan
Application

Fill out our online application
or apply at your local branch.

Officer Review

A decision will be made
in one business day.

Finalize

Sign loan documents via
email or in person.


Greater Texas Branches in Houston
Greater Texas Branches in Houston
Bingle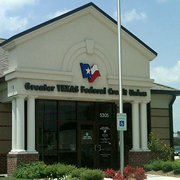 Address
5305 Bingle Rd.
Houston, TX 77092
800-749-9732
Lobby Hours
Mon-Thurs: 9am - 4pm
Friday: 9am-6pm
Saturday: Closed
24 hour ATM
Drive-Thru
Mon-Thurs: 8am-6pm
Friday: 8am-6pm
Saturday: 9am-1pm
*APR=Annual Percentage Rate. Terms and conditions apply. Rate is for loan terms up to 36 monthly payments of $28.56 per $1,000 borrowed. Advertised rate includes additional discount of 0.25% for purchase of Greater Texas Credit Union GAP and Auto Warranty. Rate is based on credit approval and subject to change. Promotion applies to new money loans for purchase or competitor refinance only.