Aggieland Credit Union has been serving Texans since 1952.
Aggieland Credit Union has been a part of the Aggie experience since 1985 when several Aggies came together to pool their resources and serve the financial needs of their friends and peers. We are here to help members through every stage of life - from establishing your first bank account and buying your first car through building a dream home and saving for a future Aggie's time at Texas A&M. We are part of the fabric of the A&M community and the Brazos Valley and dedicated to helping members achieve their financial goals.
We have invested in innovative tools and technology. That means we can efficiently serve our members locally and throughout Texas. You can be a member of Aggieland Credit Union for life, and we will be there with you as a financially sound partner.
Our partnership with Texas A&M is as unique as the university and its traditions, providing resources and programs that enhance the Aggie experience both on campus and beyond. We are vested in making the Brazos Valley a great place to live, work, and play by supporting local nonprofits and causes that make a difference in the lives of our neighbors.
As a subsidiary of Greater Texas Credit Union, we have an extensive reach and resources, allowing us to deliver the Best Banking Experience. Ever.
---
Our Humble Beginning

We started small in 1985 after several Aggies saw the need to help one another financially. Shortly after applying for a credit union charter, these astute founders formed the Texas Aggie Credit Union to serve students, former students, faculty, and staff of Texas A&M and their immediate family members.
Demand was strong. Students lined up to open accounts. As assets and membership grew, so did the challenges of serving the needs of members. Working with limited resources and a small staff the credit union grew too fast, threatening its solvency.

In 1992, Texas Aggie Credit Union took the bold step of merging with an Austin-based credit union to achieve financial stability. As a result, Texas Aggie Credit Union became an operating subsidiary of Greater Texas Federal Credit Union, which allowed it to retain its name and preserve its heritage of serving fellow Aggies.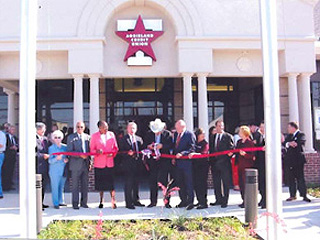 Under the leadership of President and CEO Tommy Seargeant, whose son was an Aggie, Greater Texas invested heavily in growing its new subsidiary by expanding services and adding branches. In 1994, Greater Texas changed the name to Aggieland Credit Union to better reflect its stature in the community and emphasis on serving all of Bryan-College Station and the Brazos Valley area.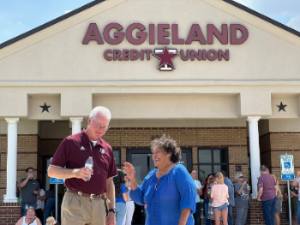 As Aggieland grew so did its prominence in the community and with Texas A&M. Over the years it has established a loyal partnership to become the official credit union of the university.  In addition, Aggieland supports a large number of student organizations and clubs, such as the Federation of Aggie Moms, and is a key sponsor of the Mays School of Business Integrated Business Exchange program. Aggieland has also donated thousands in scholarships and is a proud employer of numerous Aggies.
Today, Aggieland members can take care of their financial needs online from virtually anywhere or in person at one of four branches in Bryan-College Station as well as at any of the 15 branches operating under the Greater Texas brand. Aggieland Credit Union is flourishing and together with Greater Texas will soon hit $1 billion in assets, creating a legacy for future generations of Aggies and the community.

Our Mission
To enhance the financial well-being of members while preserving the unique benefits of cooperative ownership.


Volunteers
Board of Directors
Chairperson - Wesley Yeager




First Vice Chairman - Veronda L. Durden

Second Vice Chairman - Linda Lothringer

Treasurer - Kenneth Owens

Secretary - Marilyn Eaton

Members - Chris Langan, Paula Castillo Reed
Supervisory Committee
Chairperson - Regan Rychetsky
Secretary -  Laura Wolbrueck
Members - Mike Trachta
Annual Reports
Find out more