Austin, Texas, March 30, 2023 – Rachel Bond, Assistant Vice President of Community Engagement and Public Relations for Greater Texas|Aggieland Credit Union, has been named the CUNA Marketing and Business Development Council 2023 Community Outreach Professional of the Year.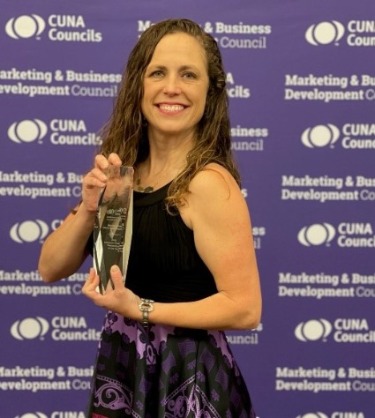 Bond, who has been with Greater Texas|Aggieland for 16 years, earned the honor for her efforts in strengthening the credit union's brand by developing mutually beneficial and meaningful relationships with members, business partners, and community and non-profit organizations.
The CUNA Marketing and Business Development Council Community Outreach Professional of the Year award recognizes an individual who exemplifies excellence and has advanced their credit union and the cooperative movement through community development initiatives, programs, and relationships.
"Rachel Bond exemplifies these qualities and has proven to be a positive force in the community," said Lynn Heider, Recognition Awards Committee Chair. "Our judges saw that Rachel embraces Greater Texas as an extension of her community, and in a sense, members are a part of her extended family. We were impressed by her vision to positively impact her community to provide for their entire well-being, regardless of their membership status.
Bond has had an influential role in developing Greater Texas' strategic partnerships with Texas A&M University and Texas State University. She also personally developed the credit union's financial education program from the ground up and has presented hundreds of financial literacy workshops. This effort has positioned the credit union as an educational resource among local school systems and with civic and non-profit partners.
Greater Texas' Greater Good program has also flourished under Bond's leadership. From organizing large scale volunteer efforts to helping charities raise money, Bond continually finds ways to provide financial, material, and volunteer resources to local non-profits. She has been instrumental in Greater Texas' involvement in the Austin Habitat for Humanity's annual House that Credit Unions Built, and recently spearheaded a fundraising campaign for the Austin Disaster Relief Network generating more than $40,000 in donations for the charity.
"Rachel is constantly looking for ways to align Greater Texas in the community so that we are there when someone is in need, regardless of their membership status," said Sidney Henderson, Vice President of Marketing at Greater Texas|Aggieland Credit Union. "She has cultivated extensive relationships in all facets of the community that have elevated the credit union's visibility and positioned us as a significant community partner."
Henderson added, "We are proud of Rachel's contributions and delighted that she has been honored with this award by the CUNA Council."
Bond has been in her current role since 2022. She received the award during the annual CUNA Marketing Council award gala in Florida.
---
About Aggieland Credit Union
Aggieland Credit Union is a subsidiary of Austin-based Greater Texas Credit Union. The full-service financial cooperative serves students, faculty, administration, friends, family, and loyal alumni of Texas A&M University. Through its parent, Greater Texas, Aggieland members can bank from either credit union with locations in Austin, Houston, San Antonio, Bryan-College Station, Edinburg, and the DFW market.