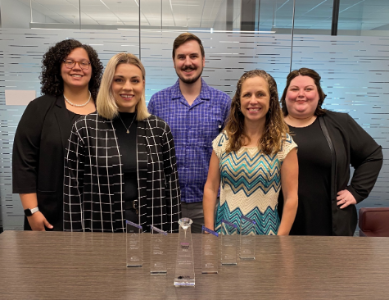 AUSTIN, April 26, 2023 – Greater Texas|Aggieland Credit Union received awards in five marketing categories from the annual Cornerstone Marketing and Business Development Council Pinnacle awards, along with a Diamond award from the CUNA Marketing & Business Development Council.
The Pinnacle awards recognize marketing campaigns from credit unions in Texas, Oklahoma, Arkansas, Kansas, and Missouri, while the Diamond award covers credit union marketing campaigns from across the U.S.
Greater Texas received awards for its All Star internal recognition campaign, its 2021 annual report, its newly redesigned newsletter – Great News! – and its Greater Good initiative benefitting the Austin Disaster Relief Network. Its subsidiary, Aggieland Credit Union, took home a Pinnacle for its Aggieland Scratchoff game.
The credit union's annual report received both a Pinnacle and a Diamond award. The report paid homage to the "Traditions of Texas" that make the state unique. The cover art invokes a high-end leatherbound coffee table book full of iconic imagery featuring the Texas landscape intermixed with easy-to-read reports and financial updates that make the information more appealing to review.
Greater Texas' Greater Good campaign also received a Pinnacle award for its approach to supporting the community. This initiative helped boost volunteerism and fundraising for the Austin Disaster Relief Network, which supports families affected by natural disasters. Through the campaign Greater Texas helped the nonprofit raise more than $40,000 through a 24-hour virtual fundraising initiative.
"We strive to initiate marketing programs that make a difference and help the credit union achieve its strategic goals," said Sidney Henderson, Vice President of Marketing at Greater Texas|Aggieland Credit Union. "We have an exceptional team that is always generating new ways to expand our presence, help our members, and support the community."
The Aggieland Scratchoff contest was a Pinnacle award winner in the Membership Marketing category. This campaign – initiated for Greater Texas' subsidiary Aggieland Credit Union – was created to generate a buzz and engage with prospective members during the on-campus new student conference and other events. More than five percent of the cards issued were redeemed and more than $21,000 in deposits were gained through the campaign.
---
About Aggieland Credit Union
Aggieland Credit Union is a subsidiary of Austin-based Greater Texas Credit Union. The full-service financial cooperative serves students, faculty, administration, friends, family, and loyal alumni of Texas A&M University. Through its parent, Greater Texas, Aggieland members can bank from either credit union with locations in Austin, Houston, San Antonio, Bryan-College Station, Edinburg, and the DFW market.