Aggieland Is Presenting Sponsor of Mean Girls Musical
Bryan-College Station, TX, Oct. 25, 2023 – Texas A&M's OPAS has received another financial gift from Aggieland Credit Union for $25,000. The gift will be used to help underwrite the cost of the Mean Girls production in November.
This is the 16th year Aggieland Credit Union has been a presenting sponsor of OPAS performances. The credit union has given $400,000 to the nonprofit performing arts organization since 2007.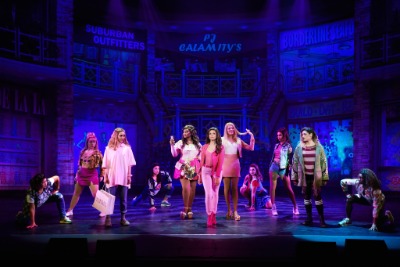 OPAS, founded in 1972, is part of Texas A&M University. It is the largest performing arts center in the Brazos Valley and the region. The regional arts center offers a range of internationally acclaimed musicians, artists, plays, and performances for audiences from around Texas.
Aggieland Credit Union is the presenting sponsor of the direct from Broadway play, Mean Girls, a hit musical from an award-winning creative team, including Tina Fey, best known for the NBC comedy 30 Rock. The play is based on the 2004 movie about a teenage high school girl who moves to Illinois from Africa. It highlights the challenges of teenage life and the value of true friendship and consequences of one's actions.
"Aggieland's ongoing support of OPAS allows us to bring professional productions of theatre, music, and dance programs to the Brazos Valley," said Anne Black, Executive Director of OPAS. "We value their partnership and investment in making the arts accessible to everyone in our community and maintaining a thriving cultural center in College Station."
There will be two performances of Mean Girls on Nov. 1 and 2 at 7:30 p.m. at Rudder Auditorium on the Texas A&M campus in College Station.
"We appreciate the performing arts and the caliber of performers OPAS brings to the Brazos Valley," said Tina Muth, AVP, Branch Operations of Aggieland Credit Union. "OPAS is a valuable cultural resource that adds to the vibrancy of the entire community."
Photo Caption – (L-R): Natalie Shaw (Cady Heron), Kristen Amanda Smith (Gretchen Wieners), Maya Petropoulos (Regina George), Maryrose Brendel (Karen Smith), Alexys Morera (Janis Sarkisian), and the Tour Company of Mean Girls. Photos credit: Jenny Anderson, 2023
---
About Aggieland Credit Union
Aggieland Credit Union was founded in 1985 by Aggies as a financial cooperative to support fellow Aggies and their families. The credit union is now a subsidiary of Austin-based Greater Texas Credit Union and emphasizes community stewardship, charitable giving, and employee volunteerism. Together with Greater Texas, Aggieland Credit Union offers a wide variety of consumer-oriented banking services to its 80,000 members across the state of Texas. The combined credit union has locations in Bryan-College Station, Austin, Houston, San Antonio, Edinburg, and the Dallas-Fort Worth market with assets of nearly $1 billion.