Bryan-College Station, Texas, Oct. 19, 2023 – More than 60 master's level students from the Texas A&M Mays Business School have won funding for their entrepreneurial business projects from Aggieland Credit Union.
The students, in 12 teams – or companies – pitched their business ideas, Shark Tank style, to financial professionals from Aggieland as part of an A&M program called the Integrated Business Experience (IBE).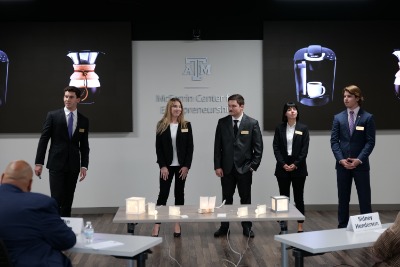 IBE is a hands-on learning experience that challenges postgraduate students to develop and manage a real business. The student teams work to identify their unique products or services, then establish companies to bring those ideas to market. They are required to conduct market research to determine market viability for their idea, create business and marketing plans, establish any needed manufacturing arrangements, and pitch their ideas to a panel of judges to secure funding.
This is the eighth year that Aggieland Credit Union has provided funding for the IBE businesses, this year advancing more than $53,000 to the dozen startup companies. The loans ranged from $3,750 to $5,000, varying based on the judges' assessment of the business concepts and other factors.
This year's judges included three key personnel with Greater Texas | Aggieland Credit Union: Commercial Credit Analyst John Corona, Commercial Lending Assistant JT Morton, and Vice President of Marketing Sidney Henderson.
Two companies stood out for the judges:
Bright Light Memories is producing specially designed photographic lithophane that produces a 3D image for desktop décor, wall hangings, or night lights. The company's sales proceeds will benefit the National Alzheimer's Association.
Toteally Green is offering sustainable, eco-friendly tote bags in various designs. The company has teamed up with the Texas Parks & Wildlife Foundation. All proceeds go to the foundation and will be doubled as part of the celebration of the Texas State Parks centennial.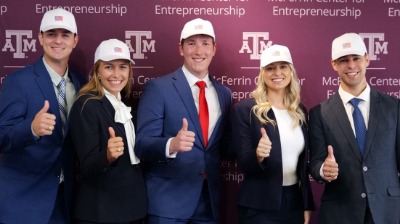 The IBE companies are making and selling their goods throughout the fall semester. Because they are limited when it comes to selling on campus outside of an organized fair, they must look for ways to partner with student groups and organizations to create marketing and sales opportunities.
At the end of the semester each company donates its profits to a designated charity.
"The beauty of the IBE program is that it gives students a real-world experience, compressing all the elements of creating and running a business into a short-term, intense project," said Sidney Henderson, Greater Texas | Aggieland VP of Marketing. "And beyond providing the startup funding, we at Aggieland also mentor them and offer financial and marketing advice to help them succeed."
Aggieland has provided more than $150,000 in funding for the IBE program since it launched in 2016.
"IBE is a unique and highly successful experiential class here at A&M," said Blake Petty, Executive Director of the McFerrin Center for Entrepreneurship at Texas A&M University and instructor for the IBE course. "Students have the chance to apply learned principles and concepts by creating and operating an actual business. They get a real taste of what is involved in forming and operating a business and marketing their products. On top of that, charities benefit from the success of each of these companies."
At the end of the semester in December, each business will make a final presentation to Aggieland Credit Union to report on their performance and celebrate their charitable donations.
A listing and description of each IBE company can be viewed here.
Photo caption 1: The Bright Light Memories Team presents its business idea to the Aggieland Credit Union judges. Bright Light Memories offers custom designed lithophanes. Proceeds from the company will benefit the Brazos Valley Alzheimer's Association.
Photo caption 2: The entrepreneurs behind the Hats Off Hat Co. include Collin Akin, Taylor Reinke, Ethan Cipolla, Grace Freitag, and Cole Catalena. Their business venture creates custom hats that celebrate patriotism and veterans. Profits from the business will be donated to Brazos Valley Cares.
---
About Aggieland Credit Union
Aggieland Credit Union was founded in 1985 by Aggies as a financial cooperative to support fellow Aggies and their families. The credit union is now a subsidiary of Austin-based Greater Texas Credit Union and emphasizes community stewardship, charitable giving, and employee volunteerism. Together with Greater Texas, Aggieland Credit Union offers a wide variety of consumer-oriented banking services to its 80,000 members across the state of Texas. The combined credit union has locations in Bryan-College Station, Austin, Houston, San Antonio, Edinburg, and the Dallas-Fort Worth market with assets of nearly $1 billion.