Bryan-College Station, TX, Sept. 14, 2022 – Four Texas A&M University faculty and staff, and members of Aggieland Credit Union won't have to worry about paying for parking this school year. They are winners of the credit union's 2022 Parking Prize Giveaway contest.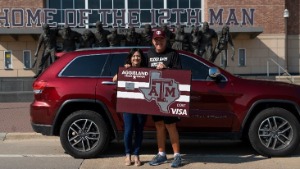 Gerald Guerrieri, Head Women's Soccer Coach, and Gregory Deitz, an IT Manager, will be parking at no charge on the Texas A&M University's main campus. Joining them as winners at remote campuses were Susan Michaelson, Medical Librarian Assistant at Texas A&M Health Science Center Library at Temple, and Kimberly Zemanek, Associate Program Director at Texas A&M Health Science Center.
For the second annual Parking Prize Giveaway, A&M faculty and staff members who registered for the contest received one additional entry every time they swiped their Aggieland Credit Union debit card. The four winners were chosen from among hundreds of entries from members who used their cards nearly 20,000 times during the three months of the contest period.
Winners receive up to $550 in campus parking assistance, usually enough to cover an entire school year.
As a Campus+ Partner, Aggieland Credit Union supports Texas A&M University faculty and staff with programs like the Parking Prize giveaway and special offers and incentives through the University's Living Well programs.
"Especially this year, when it already costs so much just to commute to campus, the Parking Prize Giveaway is a great bit of relief for the winners," said Jason Goodman, class of 2000 and COO of Greater Texas|Aggieland Credit Union. "We're glad we can help our winning members any way we can."
"Living Well greatly values our partnership with Aggieland Credit Union," said Kourtney Bassett, Employee Wellness Manager, Living Well at Texas A&M. "Aggieland makes it possible for us to provide creative giveaways and programs for Texas A&M faculty and staff. We enjoy seeing this program get more popular each year."
---
About Aggieland Credit Union
Aggieland Credit Union is a subsidiary of Austin-based Greater Texas Credit Union. The full-service financial cooperative serves students, faculty, administration, friends, family, and loyal alumni of Texas A&M University. Through its parent, Greater Texas, Aggieland members can bank from either credit union with locations in Austin, Houston, San Antonio, Bryan-College Station, Edinburg, and the DFW market.