Bryan-College Station, Texas Dec. 14, 2022 – The Giving Tee was the most profitable company in this year's Texas A&M Mays Business School Integrated Business Experience (IBE) program, earning nearly $8,000 in profits, which is being donated to Voices for Children of Brazos Valley. The Giving Tee was one of 10 companies launched by master level students participating in the class.
Students formed real businesses and carried out all the duties required to bring a product or service to market, including securing seed funding, which was provided by Aggieland Credit Union.
Together the 10 companies earned more than $21,000 operating their businesses during the fall semester. Each company donated their profits to a charity of their choice.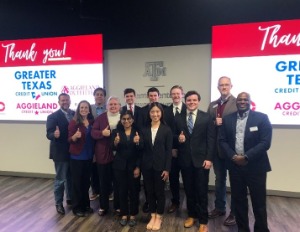 The class ended with each company closing operations and making final business presentations to the Aggieland Credit Union judges and funding team.
The Giving Tee produced custom designed screen-printed t-shirts for individuals, businesses, and groups. They advertised their t-shirt business using Instagram and Tik-Tok and sold at various venues throughout Bryan-College Station. The company also received media coverage on the local ABC TV affiliate, KRHD25, which helped boost its awareness, generating more sales.
The 10 companies in this year's IBE included:
Beloved Bands – earned $2,623; Profits donated to Children with Hair Loss
Bottle Belt – earned $1,518; Profits donated to the Reach Project
Cooking Outside the Box – earned $1,129; Profits donated to the Reach Project
FANPAK  - earned $681; Profits donated to Brazos Valley Foodbank (Backpack Program)
FM Freshies – earned $1,611; Profits donated to OnRamp
Hullabaloo Frames – earned $1,032; Profits donated to Taylor's Place
Rowdy Towels – earned $1,506; Profits donated to Empowering Women Out of Prison
The Giving Tee – earned $7,961; Profits donated to Voices for Children of Brazos Valley
Tru Elixirs – earned $667; Profits donated to MADD BCS Local Chapter
Wehner Woodworks – earned $2,719; Profits donated to Kerens FFA
"The culmination of the program is the final presentations in which the students/business owners report on how their organizations performed, "said Jason Goodman, COO of Aggieland Credit Union and a Texas A&M Class of 2000 graduate. "It is always interesting to hear what they learned and about the pivot points when they discovered the challenges of running a business."
Aggieland Credit Union has been part of the IBE program since the program's inception in 2016. The credit union has funded $100,000 for various IBE company ventures. Funding varies each year based on the individual company pitches. This year all 10 IBE companies received some funding, ranging from $1,100 to $3,000.
Howard Baker, President and CEO of Greater Texas|Aggieland Credit Union said, "As Texas A&M's credit union, mentoring these students about business financing is as important for them as it is to us. We are so pleased to help students achieve high levels of success in their life and their future business endeavors as entrepreneurs and leaders."
As part of the program, Baker spoke with IBE students covering a multitude of issues pertaining to business operations and leadership.
"Every business venture includes mistakes and victories," said Blake Petty, Executive Director for the McFerrin Center for Entrepreneurship at Texas A&M University and instructor for the IBE course. "This out-of-the-classroom experience exposes students to real business challenges that showcase how their actions and decisions truly impact the bottom line."
Petty noted, "Our ultimate goal is ensuring every IBE student learns to overcome mistakes and learn a unique entrepreneurial skillset. And that they can apply these lessons toward success in whatever career they choose to pursue."
---
About Aggieland Credit Union
Aggieland Credit Union is a subsidiary of Austin-based Greater Texas Credit Union. The full-service financial cooperative serves students, faculty, administration, friends, family, and loyal alumni of Texas A&M University. Through its parent, Greater Texas, Aggieland members can bank from either credit union with locations in Austin, Houston, San Antonio, Bryan-College Station, Edinburg, and the DFW market.