Texas A&M University Names Aggieland Credit Union Its Official Credit Union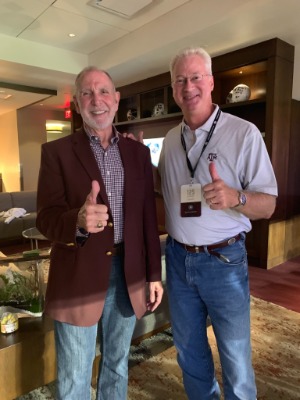 College Station, TX (August ) – Texas A&M University has announced a fully integrated Campus+ partnership with Aggieland Credit Union, as its Official Credit Union, on September 23, 2019.
Notably, Aggieland Credit Union has been serving Aggies since 1985 when it was originally chartered as Texas Aggie Federal Credit Union to serve full-time students and members of the Association of Former Students. The credit union now formally aligns with Texas A&M University for the first time to assume the designation as its Official Credit Union Partner. As part of its brand-new campus-wide partnership, members can take advantage of a co-branded debit card, the option to open a low-to no-fee checking or savings account, and with no minimum balance for either type of account.
Aggieland Credit Union President and CEO Howard Baker said the partnership with Texas A&M aligns with their mission to support and engage Aggies where they study, work and live. "Founded by Aggies to serve Aggies, Aggieland Credit Union is absolutely thrilled to be the Official Credit Union of Texas A&M University," Baker said. "The credit union's passion and commitment to financial literacy, cooperative credit union principals, and best interests of Aggies and Texas A&M, as well as our members throughout Texas, are well-served by this partnership."
Aggieland Credit Union also has a strong passion of supporting financial literacy, by offering free financial education to community partners, school districts and business partnerships throughout Texas. With the A&M partnership, the credit union will be able to offer tailored education to incoming and current students to keep their finances on track while in school and help prepare them for life after education. Too, the partnership will ensure that faculty and staff are not only prepared for unexpected expenses, but also for retirement.
Texas A&M Vice President for Brand Development Shane Hinckley said it is critical for the university to continue securing services that help students, faculty and staff with everyday needs.  "Partnerships like this, with the magnitude of involvement by Aggieland Credit Union help enhance our ongoing commitment to bring zero or low fee banking options to our campus community," Hinckley said. "We are also excited about additional resources that can be added to our existing financial literacy programs to help students, faculty and staff. People can expect to see more integrated services through this Texas A&M-driven Campus+ partnership."
Pictured: L-R, Michael K. Young, President of Texas A&M University and Howard N. Baker, Aggieland Credit Union President and CEO
About Texas A&M University
Texas A&M University is a community of scholars dedicated to solving diverse, real-world problems through determination, innovation, and above all, fearlessness. Texas A&M opened its doors in 1876 as the state's first public institution of higher education and is today a tier-one research institution holding the elite triple land-, sea- and space-grant designations. Research conducted at Texas A&M represented annual expenditures of almost $1 billion in fiscal year 2018. Texas A&M's 69,000 students and half a million former students are known for their commitment to service, as well as dedication to the university's core values and rich traditions.
About Aggieland Credit Union
Aggieland Credit Union is part of Greater Texas Credit Union, headquartered in Austin, Texas.  Greater Texas Credit Union has been serving Central Texas since 1952 and has 19 locations across Texas. Aggieland Credit Union is a not-for-profit financial cooperative aimed at providing an array of top-tier banking products and services.  The credit union is equally "owned" by every member:  not by shareholders.  To learn more about the credit union, visit aggielandcu.org for a complete list of locations and more information about our products and services.
Contact
Rachel Bond: Aggieland Credit Union, Community Relations Director
Rachel.bond@gtfcu.org : 512-323-4732
Tierra Graves: Texas A&M University, Division of Marketing & Communications
T5graves@tamu.edu : 979-862-2369