Texas A&M University Names Aggieland Credit Union Its Official Credit Union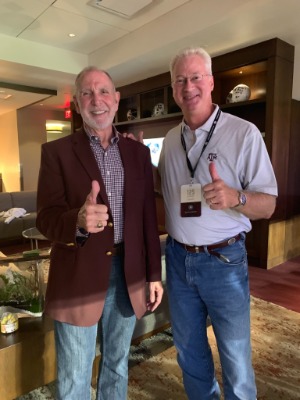 Texas A&M University has announced a fully integrated Campus+ partnership with Aggieland Credit Union, as its Official Credit Union, on September 23, 2019.
Aggieland Credit Union has been serving Aggies since 1985 when it was originally chartered as Texas Aggie Federal Credit Union to serve full-time students and members of the Association of Former Students. The credit union now formally aligns with Texas A&M University for the first time to assume the designation as its Official Credit Union Partner.
As part of its brand-new campus-wide partnership, members can take advantage of a co-branded debit card, the option to open a low-to no-fee checking or savings account, and with no minimum balance for either type of account.
Aggieland Credit Union also has a strong passion of supporting financial literacy, by offering free financial education to community partners, school districts and business partnerships throughout Texas. With the A&M partnership, the credit union will be able to offer tailored education to incoming and current students to keep their finances on track while in school and help prepare them for life after education. Too, the partnership will ensure that faculty and staff are not only prepared for unexpected expenses, but also for retirement. 
Pictured: L-R, Michael K. Young, President of Texas A&M University and Howard N. Baker, Aggieland Credit Union President and CEO
About Aggieland Credit Union
Aggieland Credit Union is part of Greater Texas Credit Union, headquartered in Austin, Texas.  Greater Texas Credit Union has been serving Central Texas since 1952 and has 19 locations across Texas. Aggieland Credit Union is a not-for-profit financial cooperative aimed at providing an array of top-tier banking products and services.  The credit union is equally "owned" by every member:  not by shareholders.
Truly Free Checking Accounts
Our checking account features no monthly service charge and no minimum balance.
We have the account that will fit your needs. Our member service team is here to serve you, so you can be sure you are receiving unparalleled service. All of our checking accounts offer no monthly service charge and no minimum balance. Our members also enjoy:
Just $25 to open, which is available for withdrawal the next business day

Nationwide network of Co-op Shared Branches and free ATMs
Reimbursement of 5 ATM fees per month
Earn dividends on minimum daily balances, check our current rates
Overdraft protection from savings account
Unlimited check writing*


Great Auto Loans

Purchase a new or used vehicle, or refinance your current loan. 
We have the perfect auto loan to fit your needs. Our loan department is here to serve you, so that you can be sure you are getting a low rate and unparalleled service. All of our auto loans offer great rates and flexible terms that suit your budget. Our members also enjoy:
Superior rates starting at % APR*
Loan terms up to 84 months
Simple online application that can be completed in minutes
Convenient E-Sign loan documents means you don't have to come into a branch
Deferred first payment for 90 days
Refinance an existing loan


Private Education Loans
Need Money for College?
Continuing your education is more important than ever, and so is making smart financial decisions when it comes to paying for that education, which is why we offer the Greater Texas Credit Union and Aggieland Credit Union Private Student Loan through our partner, Higher Education Servicing Corporation (HESC).  This Private Student Loan was developed specifically to help Texas residents pay for college when scholarships, grants and federal aid just aren't enough to cover the full cost of attendance (see Important Notice on this page).
Learn more about the loan program's features, borrower benefits, and repayment options!
Home Mortgage Loans
Find the best mortgage to lower your payment and save you money.
No matter which home loan you choose, Aggieland Credit Union will save you money on interest rates and monthly payments. Home loan programs include:

Conventional Fixed-Rate Mortgage
Conventional Adjustable-Rate Mortgage
FHA Loan
First-Time Home Buyers Mortgage
VA Loan
USDA Loan
Adjustable Rate Mortgage
Home Loan Refinancing


Personal Loans
Get the cash you need for life's expenses.
At Aggieland Credit Union, we offer unsecured loans (loans without collateral) at
great rates
to our great members. We can help you consolidate debt, pay for home repair or improvements, finance the vacation of your dreams, and more. Personal loan benefits may include:
No collateral required to qualify

Fixed rates, fixed terms, and fixed monthly payments

No origination fees

No prepayment fees

Competitive Annual Percentage Rate (APR), starting at %*